The Original Close-Up Magic Symposium 29.09-01.10.2023
2023-06-06
The Original
Close-Up Magic
Symposium
Bill Cheung Magic Theater

29-30 SEP- 1.Oct 2023
Invitation Only!
Dear Magic Enthusiasts,

We are thrilled to announce an extraordinary event coming to Vienna, Austria at the end of September. Get ready for "The Original Close-Up Magic Symposium," an elite gathering of master magicians. This symposium has evolved from the Coin Magic Symposium in Milan and the European Magic Symposium, and this year, it will take place at Bill Cheung's Magic Theater.
We are excited to inform you that we already have esteemed magicians from 20 countries participating in this grand event. The lineup includes Akira Fujii, Armando Lucero, Giacomo Bertini, Bebel, Roberto Giobbi, Franzis Tabary, Flip Hallema, Bill Cheung, Sergio Starman, Jean Emmanuel Franzis, Boris Wild, Jacob Schenström, Magic Christian, Hernan Maccagno, Camilo Vazques, Toni Cachadiña, Giancarlo Scalia, Jose Castineiras, Markobi, Rune Carlsen, and many more renowned artists.
In addition to captivating lectures, mesmerizing gala shows, and exclusive private sessions, we are also hosting the FISM-qualified competition named the Fred Kaps Award, with a cash prize of €1500 for the winners. If you are interested in participating in the competition or securing an invitation for this extraordinary symposium, please don't hesitate to contact us immediately.
Please note that we only have 120 slots available, and they are filling up fast. Once these slots are filled, you will be placed on a waiting list. Act now to secure your spot and be part of this unforgettable magical experience!
For more information or to reserve your place, please reach out to our team. We are here to assist you in every way possible.
Don't miss out on this exceptional event that will bring together the world's finest magicians. Join us for an enchanting journey into the realm of magic and wonder in Vienna!
Magically yours,
Your Symposium Team
Veranstaltungsort
Bill Cheung Magic Theater
Wiener Straße 111 / 3.5.B
2700 Wiener Neustadt
limited in attendance: Our space is limited to 120 people.
This year's Guest of Honor: Akira Fujii, we have invited Roberto GIOBBI, Bebel, Franzis TABARY, FLIP Hallema, Rune Carlsen, Sergio Starman, Jean Emmanuel FRANZIS, BORIS WILD, Jacob SCHENSTROM, Angelo MIRRA, Hernan MACCAGNO, Alex Conradi, John Carey, José Arcario, and many more …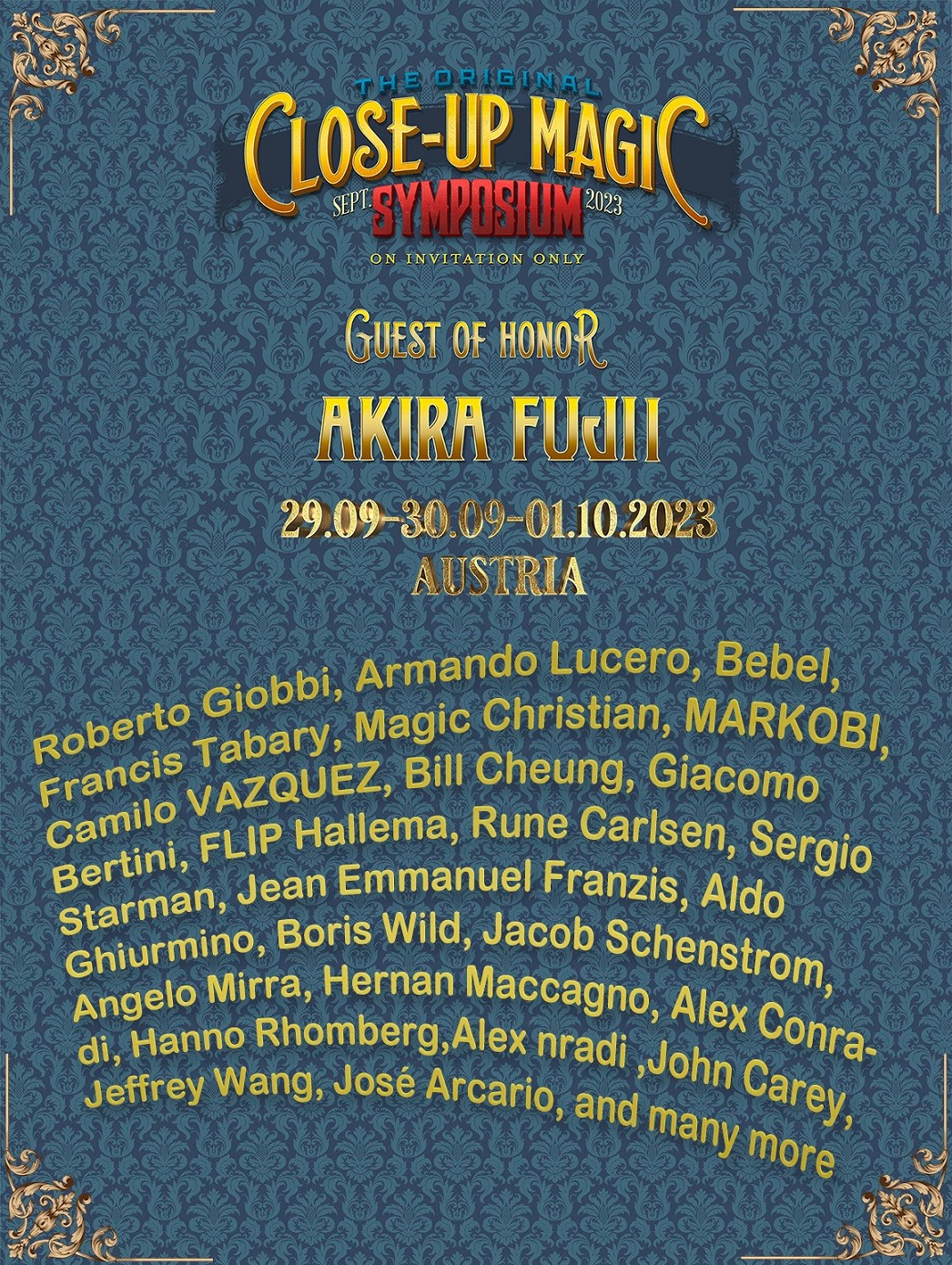 Open Competition - Fred Kaps Award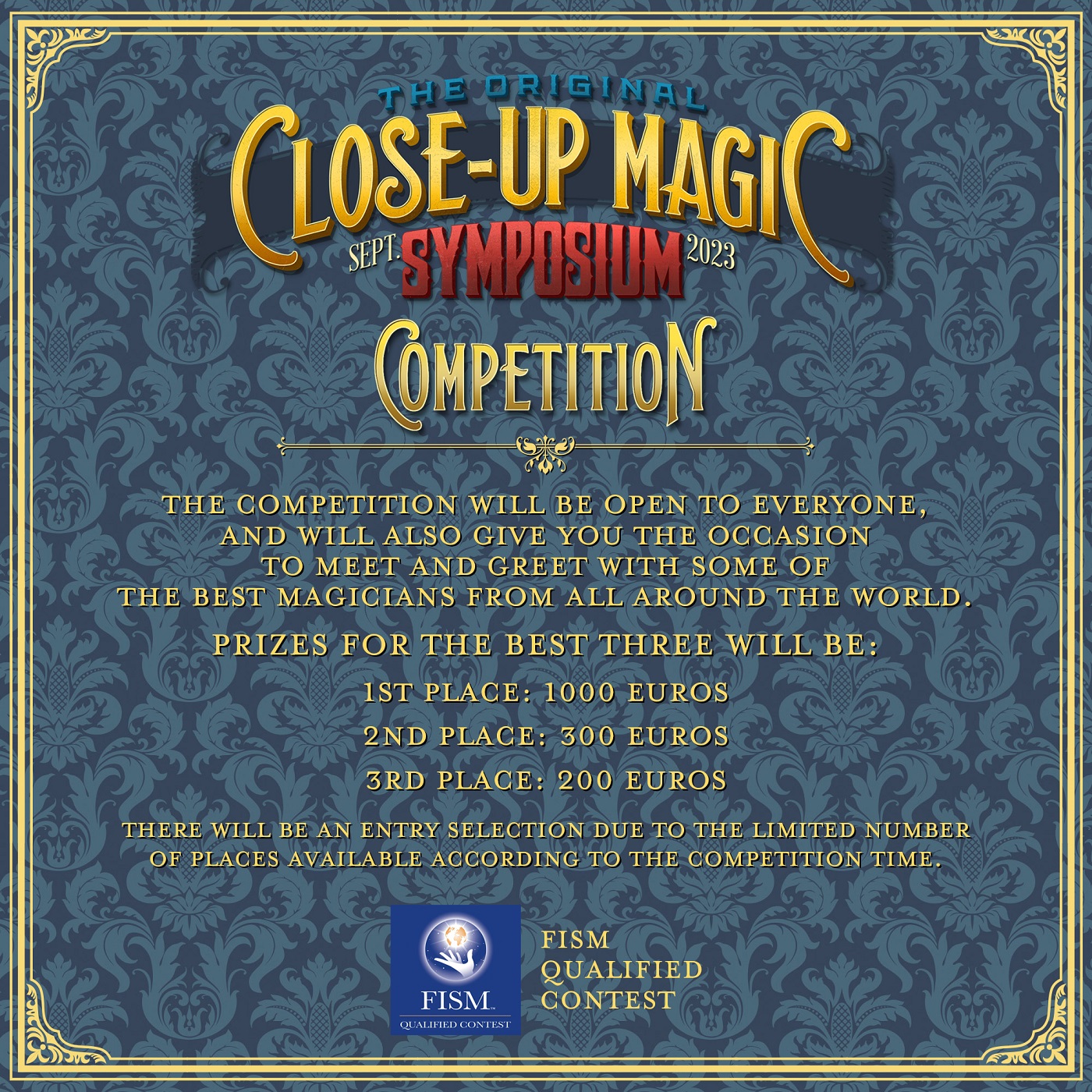 In 10 years we have had many visitors: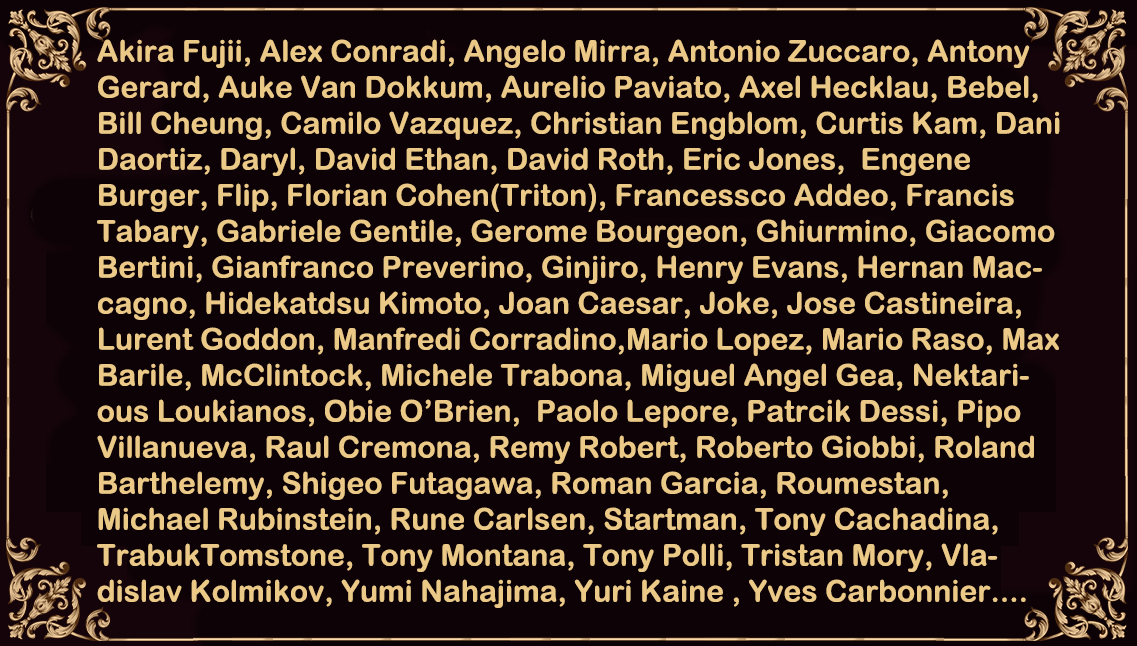 ­

If you want to know more information about how to get the invitation or take part into the competition, Please do not hesitate to contact us.
info@magic-theater.at
Board of Directors:
President: Bill Cheung,
Vice President: Giacomo Bertini,
Board of Directors: Franzis TABARY, Rune Carlsen, FLIP Hallema, Jean Emmanuel FRANZIS ,